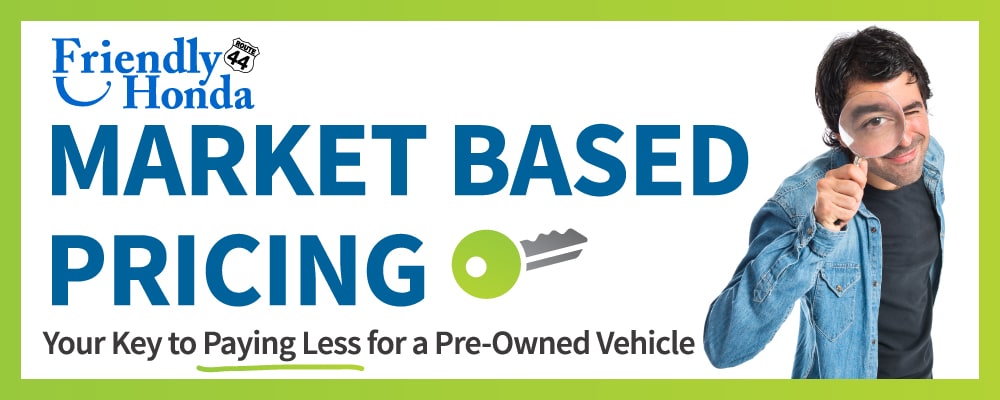 What is Market Based Pricing?
At Friendly Honda, our goal is to give you the best quality vehicles at the best prices.
To give you competitive prices on pre-owned vehicles, Friendly Honda uses something called "Market Based Pricing." This means that our prices are not based on book value, but rather the current market's supply and demand. This is how we make sure that our deals are the best deals.
Our prices, in addition to our convenient location, our outstanding reputation, the level of reconditioning we put into our cars, and our ability to provide Honda Certified Pre-owned Vehicles, make us an attractive choice for your next pre-owned vehicle.
Our goal is to make each of our vehicles a top value choice within a radius determined by market availability.
That's how market pricing works...you get the best value around! In today's world, you can look at cars anywhere you like with a click on the button. Use the market to your advantage and make sure you get the best price.
At Friendly Honda, we strive to make it difficult to beat our prices.
We don't have any hidden fees in our prices - what you see is what you get! Other dealerships may say they have the car for less, but might have a destination fee or a prep fee. Don't pay hundreds or even thousands of dollars in fees - get the right price from the start only at Friendly Honda!
If you're like most of our customers, we know you'll appreciate our upfront and honest sales strategy that we employ with Friendly Honda's Market Based Pricing.

Learn More