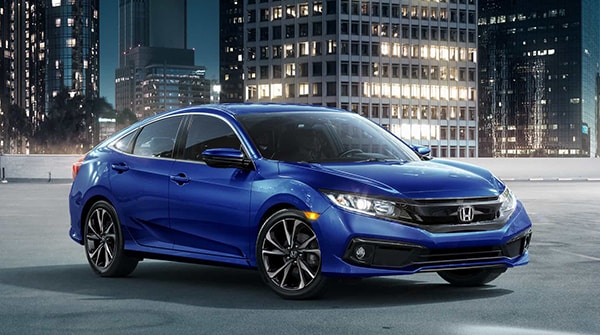 The Honda Civic has been dominating its segment for quite some time now. It's made a name for itself being reliable, affordable, fun to drive, as well as a great family vehicle and now it's getting even better. The 2019 Honda Civic will be receiving new styling features, upgraded standard safety features, and more modern technology. Read on to learn about some of the critical changes to the 2019 Honda Civic.
Technology
By now we're familiar with HondaLink, Honda's infotainment system, and we're happy to report that the all-new 2019 Honda Civic is getting an updated version. HondaLink comes standard on all trim levels except the LX trim level. You can now expect an impressive 7.0-inch touchscreen system where you will be able to adjust many functions in the vehicle quickly. One thing that Honda did away within the 2019 Civic is the touchy slider control for audio volume. This was one feature that many critics felt could be improved, and Honda listened. New in 2019, the Civic will have a standard knob to control volume, giving the driver or passenger better control of their music, podcasts, or phone calls.
Safety
Honda has become synonymous with safety, and the all-new 2019 Honda Civic is no exception. While we do not have official safety ratings yet, we are confident that the new Civic will follow in the footsteps of the vast majority of Honda models and earn top marks across the board.
The Honda Sensing package that we've become familiar with is now being rolled out across the entire 2019 Civic lineup and includes more active-safety features. Some of the features that we're most excited about are lane-keeping assist, adaptive cruise control, forward collision warning, and other driver-assistance technology.
Style
Last but not least, we'll go over some of the styling changes that we see in the all-new 2019 Civic. The new Civic Sport sedan and coupe come with a 2.0-liter inline-four engine that puts out 158 horsepower. They also have stiffer suspension tuning, a blacked-out front end, 18-inch wheels, a center exhaust, body kit, and a rear spoiler.
If you like what you read here, give us a call at Friendly Honda in Poughkeepsie, New York to reserve your all-new 2019 Honda Civic today! We expect the 2019 Civics to be available this Fall.