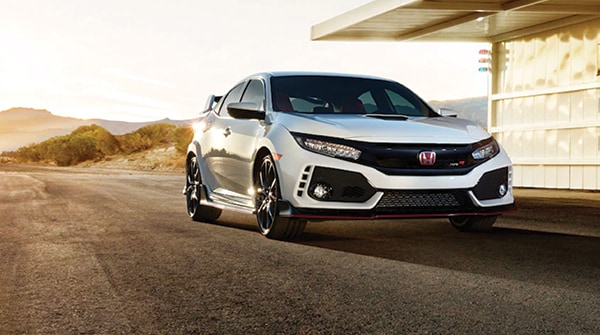 ?There is quite a lot of hype around the Civic Type R and we firmly believe that this car lives up to all of the praise and then some. No matter where you live, people are loving the Type R and the 2019 model is no exception. The Type R is safe, well-designed, and extremely fun to drive – what's not to love?!
Read on to learn more about what we love about the Type R and what's new in 2019.
What's New in 2019?
In our opinion, the best update to the 2019 model is the updated infotainment system. In the past it's driven people crazy but Honda listened to the feedback and made it better for 2019. They added a volume knob and other physical buttons, like climate control, that make the system much more user-friendly.
Additional updates include slight design tweaks like simplified steering-wheel controls and an updated switch for the electronic-parking brake. The color palette is also expanded in 2019 and will now include Sonic Gray Pearl.
Performance
All Type Rs come standard with an exclusive turbocharged four-cylinder engine that makes 306 horsepower and 295 pound-feet of torque - you can go from zero to 60 in less than 5 seconds. The Type R will cling to the road and handle curves and turns with ease making the car fun to drive but also giving drivers comfort knowing that they're in control. The suspension is slightly stiffer than the Civic Si's, but it's far more comfortable than a lot of it's competitors.
You'll also get impressive fuel-economy with this speedy hatchback that will give competition a run for their money. The new Honda Type R achieved 29 mph combined.
Technology & Convenience
The Civic Type R can be your daily driver or your track superstar, but there's no denying that it's also very practical in a lot of ways. In fact, the Type R is tied for first among its competition for greatest carry-on-luggage capacity.
As we've already coved, the infotainment system is improved in the 2019 model and alleviates some of the frustrations found in the past model. Knowing Honda, you know that the Type R comes standard with Apple CarPlay and Android Auto, integrated navigation, and an impressive stereo system.
There's a lot to love about this Honda model but you've got to see it for yourself. Give us a call today at Friendly Honda to schedule your test drive and see for yourself just how fun this little hatchback is to drive around the hills of Poughkeepsie.